KiteGenVenture LLC announces the launch of the KiteGen Stem, a massive, 3 MW generator capable of providing affordable clean energy on a massive scale. Using large Power Kites, KiteGen's generators harnesses freely available kinetic energy from wind, and converts that energy into electricity that is accessible via the grid. Each KiteGen Stem Generator is capable of providing enough clean energy to support the energy needs of up to 10000 families. The energy KiteGen produces boasts no environmental impact, and zero CO2 emissions. KiteGen Stem does not need to be installed in especially windy areas – they can be installed and provide electricity anywhere clean energy is needed.f
Nextbigfuture has over a dozen Kitegen articles going back to 2006. Kitegen has been working on the 3MW system since about 2010.
Next steps​. KiteGen has finished designing and testing the Power Kites – all that remains is to identify where these generators can make the most impact, and to install them there. In an effort to make the greatest positive impact on our environment, KiteGen has partnered with like-minded nonprofits to help transform the world's energy use. They have committed to sharing revenue created from the first line of installed generators with these groups, which include Bridge for Good, which focuses on reforestation, Source International, which combats pollution, and Amnesty International, defender of human rights.
Highlights
* 3MW generator harnesses kinetic energy from the wind using Kites
* Harnessing, Converting, and Using Energy has no impact on environment, zero CO2 emissions
* Can be installed anywhere, provide energy for up to 10K families
The Campaign: ​KiteGen is running an Indiegogo campaign in support of the launch of their PowerKite Project. Backers can help make Power Kite technology a reality for as low as a $20 contribution. The campaign, which launches April 14, 2015, will run through June 13, 2015. Backers can expect to receive rewards by July 2015.
Kitegen had previously envisioned multiple kite systems going around a large carousel.

Kitegen system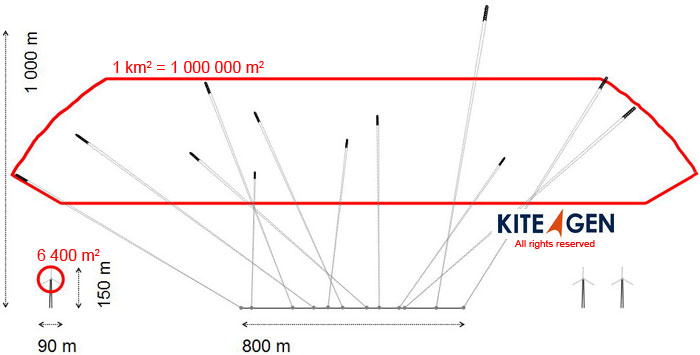 100 MW Kite Gen power plants, not much larger than the illustrated example, were estimated to deliver a cost of energy produced lower than 0.03 Euro per kWh. A Kitegen system that was place at higher elevation could access winds 2-3 times stronger for 8 to 27 times more power than a Kitegen at a lower altitude.
Brian
 Wang is a prolific business-oriented writer of emerging and disruptive technologies. He is known for insightful articles that combine business and technical analysis that catches the attention of the general public and is also useful for those in the industries. He is the sole author and writer of 
nextbigfuture

.com
, the top online science blog. He is also involved in angel investing and raising funds for breakthrough technology startup companies.
He gave the recent keynote presentation at Monte Jade event with a talk entitled the Future for You. 
 He gave an annual update on molecular nanotechnology at Singularity University on nanotechnology, gave a TEDX talk on energy, and advises USC ASTE 527 (advanced space projects program). He has been interviewed for radio, professional organizations. podcasts and corporate events. He was recently interviewed by the radio program Steel on Steel on satellites and high altitude balloons that will track all movement in many parts of the USA.
He fundraises for various high impact technology companies and has worked in computer technology, insurance, healthcare and with corporate finance.
He has substantial familiarity with a broad range of breakthrough technologies like age reversal and antiaging, quantum computers, artificial intelligence, ocean tech,  agtech, nuclear fission, advanced nuclear fission, space propulsion, satellites, imaging, molecular nanotechnology, biotechnology, medicine, blockchain, crypto and many other areas.