SiCortex and Scalable Servers Corporation have each packaged something like a server cluster into a single box, to produce what each hopes will be a commercially viable desktop supercomputer.
On the outside, the machines in question look like big desktop PCs. On the inside, they are rather different. Instead of one or two microprocessors (the business parts of a computer, which do the actual calculations), they have dozens—up to 72 in the case of SiCortex.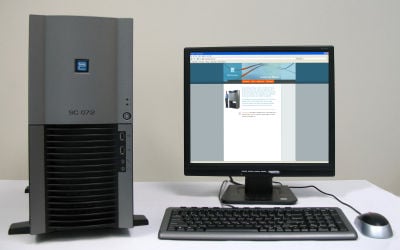 The new SiCortex SC072 – code-named "Catapult" – fits 72 processors into a deskside unit that starts at less than $15,000. With a total of 72 processors, 48 GB memory, and 3 PCIexpress ports, the Catapult draws less than 200 watts of power and fits in standard PC chassis.
Scalable Servers Corporation has its flexBLADE platform
Capable of a wide range of configurations, the versatile flexBLADE is comprised of a single chassis form factor with up to 5 dual socket blades, configurable as a cluster, SMP, hybrid-combination or small server farm. Supporting the full range Next Generation AMD Opteron processors, the platform can scale from a cool and quiet, low power 1500 watt departmental solution, up to a robustly configured 3000 watt compute powerhouse. The flexBLADE also supports scaling out beyond standard dual socket to quad socket SMP, FAT NODE, configurations with ample memory support (16 DIMM slots per node, or 80 total DIMM Slots per chassis), storage (up to 10-2.5″ and 14-3.5″ disks), and a PCIe x16 slot per blade which allows multiple graphics heads per platform. Built-in networking includes 10 or 20 Gigabit InfiniBand, 10 Gigabit and 1 Gigabit Ethernet with full system management that allows the flexBLADE platform a wide range of configurations to match performance and cost requirements.

SiCortex also has the SC5832, which has a cluster of 972 nodes, each having six processors, for a total of 5,832 processors. Each processor draws a paltry 600 milliwatts of juice. The chassis can hold up to 8 TB of main memory, and the theoretical peak performance is 5.8 TFlops.
The whole cabinet only draws 18 kilowatts of electricity. Nodes communicate directly over a passive copper backplane. It's air cooled, and each node runs a fairly standard Linux kernel. It comes pre-installed with a full suite of development software including MPI, TAU, Vampir, TotalView, and more.
Brian
 Wang is a prolific business-oriented writer of emerging and disruptive technologies. He is known for insightful articles that combine business and technical analysis that catches the attention of the general public and is also useful for those in the industries. He is the sole author and writer of 
nextbigfuture

.com
, the top online science blog. He is also involved in angel investing and raising funds for breakthrough technology startup companies.
He gave the recent keynote presentation at Monte Jade event with a talk entitled the Future for You. 
 He gave an annual update on molecular nanotechnology at Singularity University on nanotechnology, gave a TEDX talk on energy, and advises USC ASTE 527 (advanced space projects program). He has been interviewed for radio, professional organizations. podcasts and corporate events. He was recently interviewed by the radio program Steel on Steel on satellites and high altitude balloons that will track all movement in many parts of the USA.
He fundraises for various high impact technology companies and has worked in computer technology, insurance, healthcare and with corporate finance.
He has substantial familiarity with a broad range of breakthrough technologies like age reversal and antiaging, quantum computers, artificial intelligence, ocean tech,  agtech, nuclear fission, advanced nuclear fission, space propulsion, satellites, imaging, molecular nanotechnology, biotechnology, medicine, blockchain, crypto and many other areas.