Nasa crowns a Personal Air Vehicle prize winner

Pipistral Virus is a 50mpg two seater plane that costs $70,000.
Dayjet, air taxi service, is nearing a soft launch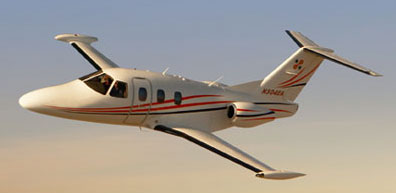 Eclipse 500
By Aug 21, 2007, Dayjet will have 11 jets. They are close to launching the first per-seat, on-demand air-taxi operation. before DayJet can fly passengers, first it must conduct proving runs–to satisfy the Federal Aviation Administration. After the FAA approves this process, DayJet's EA-500s will be added to the company's air carrier certificate. "We expect to fly passengers at the end of August or the beginning of September," he said. "As we'll do a soft launch for now, we'll have a grand opening later–maybe in September.

Six passengers, max cruising speed of 375 knots, range of 1,280 nautical miles,, gets 11 mpg, and costs less than $200/hr to operate.

$99 digital fuel mizer
Aggressive Driving vs. Moderate Driving
Result: Major savings potential
The Cold Hard Facts: Up to 37 percent savings, average savings of 31 percent
Recommendation: Stop driving like a maniac. The fuel mizer device can help be your coach and provide feedback so that you can become a mroe fuel efficient driver.